CDL Skills / Heavy Equipment for the Drilling Industry (400 Hrs)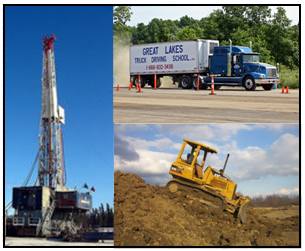 CLASS A / HEAVY EQUIPMENT / OIL
APPROVED FOR GI BILL® BENEFITS FOR ELIGIBLE VETERANS
COUNTY TRAINING GRANTS (WIOA, BVR, BWC, TAA)
PAYMENT PLAN
SECTION ONE: HEAVY EQUIPMENT OPERATION
Heavy Equipment Operation provides students with the basic skills and fundamentals needed to obtain an entry level position in the Heavy Equipment field. Students will receive NCCER Core Curriculum and Level One certifications. Modular credit will be applied for NCCER Levels Two and Three. Certifications will be granted on various pieces of heavy equipment.
SECTION TWO: OSHA 10
This section will prepare students with the necessary information and education to receive their OSHA 10 Hour Construction Card.
SECTION THREE: CDL CLASSROOM INSTRUCTION
Classroom instruction consists of introducing students to the trucking industry, its regulations, laws, taxes, and standards. It covers a wide range of subjects to strengthen the student's knowledge in truck driving techniques, maneuvers, and safety awareness.
SECTION FOUR: DRIVING RANGE
Driving Range instruction consists of teaching students how to properly maintain their equipment, couple and uncouple tractor-trailer combination units, perform vehicle inspections, practice various backing maneuvers to advance the students skill level.
SECTION FIVE: ROAD TRAINING
On road instruction introduces students to various traffic situations and to various roadway systems to develop safe driving techniques. Students apply speed and space management, visual search, communication, shifting techniques, double clutching, progressive shifting, and defensive driving techniques to safely operate a tractor-trailer. A total of approximately 450 miles of on-road training is implemented to develop the student's performance level.
SECTION SIX: OILFIELD & PIPELINE SAFETY
The Oilfield & Pipeline Safety portion of training is designed to assist individuals in preparing to enter a career in the oil and gas industries. The certifications obtained in this portion of training are quickly becoming the industry standard. The aerial platform and rough terrain forklift portion of training is designed to provide students with the basic understanding of performing inspections and operating articulating boom lifts and rough terrain forklifts.
TOTAL PROGRAM HOURS: 400 Hrs.
TOTAL PROGRAM COST: $15,995.00
GLTDS DOES NOT ACCEPT CASH. ALL PAYMENTS MUST BE MADE BY CREDIT, DEBIT, CHECK, MONEY ORDER, ETC.
Effective February 1, 2022, anyone making payments with a credit or debit card will be charged a 3% card processing fee.
PROGRAM OBJECTIVES: This program is designed for individuals who have no previous tractor-trailer experience or equipment operating experience and want an extensive training program that provides opportunities for graduates in truck driving, equipment operating, and oilfield jobs. This program includes classroom instruction designed to help students pass the CDL State Skills Exam, operate heavy equipment in a hands-on environment, and obtain a number of safety credentials valuable to the industry. Training prepares students for the CDL State Skills Exam and entry-level employment as a tractor-trailer driver, equipment operator, or in the oilfield industry.
SCHEDULE
Full time – 10 Weeks, Monday – Friday, 8:00 AM – 4:30 PM
| | | |
| --- | --- | --- |
| Start Date | Expected Graduation Date | Holidays |
| 01/09/2023 | 03/20/2023 | Martin Luther King Jr. Day (1/16) |
| 03/20/2023 | 05/26/2023 | |
| 05/30/2023 | 08/08/2023 | Memorial Day (5/29) & Independence Day (7/3 & 4) |
| 08/07/2023 | 10/16/2023 | Labor Day (9/4) |
| 10/16/2023 | 12/27/2023 | Thanksgiving (11/23 & 24) |
Closed Christmas through New Year's Day

Expected graduation date is calculated based on perfect attendance without any unexpected closures and assumes all graduation requirements have been met. This date is an estimate and is subject to change.
"GI Bill®" is a registered trademark of the U.S. Department of Veterans Affairs (VA). More information about education benefits offered by VA is available at the official U.S. government website at www.benefits.va.gov/gibill.