Premier Driver Development Program, Option 2 (600 Hrs)
PREMIER DRIVER DEVELOPMENT PROGRAM/ OPTION 2 CLASS A/HEAVY EQUIPMENT (600 CLOCK HOURS)
APPROVED FOR GI BILL® BENEFITS FOR ELIGIBLE VETERANS
COUNTY TRAINING GRANTS (WIOA, BVR, BWC, TAA)
PAYMENT PLAN
HEAVY EQUIPMENT OPERATION
This course provides students with the basic skills and fundamentals needed to obtain an entry level position in the Heavy equipment field. Students will receive NCCER certificates in Core Curriculum, Level One, and Level Two. Modular credit will be applied for NCCER Level Three. Certifications will be granted on various equipment used in this training.
CLASSROOM INSTRUCTION
Classroom Instruction consists of introducing students to the trucking industry, its regulations, laws, taxes, and standards. It covers a wide range of subjects to strengthen the student's knowledge in truck driving techniques, maneuvers and safety awareness, and CDL Prep.
YARD INSTRUCTION
Yard instruction gives students experience operating Class A & B vehicles. Driving range instruction consists of how to properly maintain equipment, couple & uncouple tractor-trailer combination units, perform vehicle inspections, and practice various backing maneuvers.
ROAD TRAINING
On road instruction introduces the students to various traffic situations and roadway systems to develop safe driving techniques. Students apply speed and space management, visual search, communication shifting techniques, double clutching, progressive shifting, and defensive driving techniques to safely operate a tractor- trailer.
TOTAL PROGRAM HOURS: 600 Hrs.
FULL TUITION: $22,495.00
GLTDS DOES NOT ACCEPT CASH. ALL PAYMENTS MUST BE MADE BY CREDIT, DEBIT, CHECK, MONEY ORDER, ETC.
Effective February 1, 2022, anyone making payments with a credit or debit card will be charged a 3% card processing fee.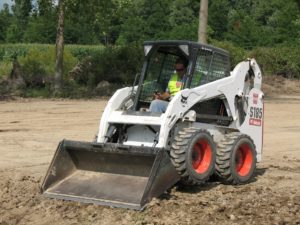 PROGRAM OBJECTIVES: This program is designed for individuals who have no previous tractor-trailer experience or equipment operating experience and want an extensive training program that provides opportunities for graduates in truck driving, and equipment operation jobs. This program includes classroom instruction designed to help students pass the CDL Skills Test, operate heavy equipment in a hands-on environment, and a number of safety credentials valuable to the industry. Training prepares students for the CDL Skills Test and entry-level employment as a tractor- trailer driver, or equipment operator.
Full time – 15 Weeks Monday – Friday, 8:00 AM – 4:30 PM
Start Date
Expected Graduation Date
Holidays

No Classes Scheduled

Contact Admissions for More Information
Interested in earning your CDL? Why not add Heavy Equipment Operation Training to double the potential job openings available to you? Great Lakes Truck Driving has several experienced faculty members waiting to help you learn the fundamentals of heavy equipment operation!
Our heavy equipment operation training is designed to give basic operational fundamentals of:
Backhoe
Bulldozer
Track Loader
Excavator
Front-End Loader
Dump Truck
Classroom curriculum will cover topics such as:
Basic Safety
Construction Math
Construction Drawing Basics
Basic Material Handling Introduction
Hand & Power Tool Introduction
This is then followed by hands-on fundamentals including:
Trenching for Laying Pipe
Trench Safety
Dump Truck Loading
Setup & Use of Grade Lasers
Blueprint Reading
Loading, Unloading & Securement of Equipment on Trailers
Pre-Start Inspections
Equipment Preventative Maintenance
These fundamentals will then lead into more advanced training projects giving the student a basic understanding of equipment operation and the excavating field on the jobsite. Examples include:
Pond Excavation
Basement & Footers
Roads
Pools
Students taking heavy equipment training will earn their NCCER (National Center for Construction & Research) Certification which will include NCCER Core Curriculum, as well as NCCER Heavy Equipment Operations Level I Certification and Module Certification within NCCER Levels I & III. The NCCER Core Certification is the foundation for the NCCER Curriculum and is designed to prepare the student for a career in the construction industry. The NCCER Level I Certification will cover topics such as proper equipment identification for the job, equipment & site safety, introduction to earth moving, proper establishment of grade, and shooting a grade with lasers. Lastly, modules covered under Levels II & III, while not a NCCER Certification, will cover the proper usage & identification of skid steers & loaders, and more advanced equipment operations with backhoes, bulldozers, and excavators.
Students enrolled in any of our programs including heavy equipment operation will result in the same Certifications listed above; however, those enrolled into the Premier Driver Development Program – Option 2 (600 clock hours) will get more seat time and experience with more advanced projects.