Heavy Equipment Training Program (280 Hrs)
HEAVY EQUIPMENT TRAINING PROGRAM (280 CLOCK HOURS)
HEAVY EQUIPMENT OPERATION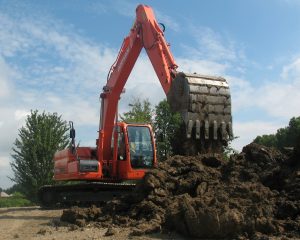 COUNTY TRAINING GRANTS (WIOA, BVR, BWC, TAA)
PAYMENT PLAN
NCCER Core
Core curriculum is the foundation for the Contren Learning series created by the NCCER. Topics include: basic safety, introduction to construction math, introduction to hand tools, power tools, and blueprints. Core curriculum also includes basic rigging, communication skills, and basic employability skills.
NCCER Level I
Heavy Equipment Operations Level I contains an introduction to the trade, heavy equipment safety, identification of heavy equipment, basic operational techniques, operation of utility tractors and heavy-duty articulated tractors as used in the construction industry, and grades part I.
NCCER Level II
This session contains introduction to earthmoving, dump trucks, rollers, scrapers, loaders, forklifts, excavation math, grades part II, and civil blueprint reading.
NCCER Level III
This session contains introductory skills for dozers, backhoes, and excavators.
Lab Training
This portion of the course offers hands-on training for various pieces of equipment in the yard.
OILFIELD PIPELINE & SAFETY
Oilfield Pipeline & Safety
The Oilfield & Pipeline Safety portion of training is designed to assist individuals in preparing to enter a career in the oil and gas industries. The certifications obtained in this portion of training are quickly becoming the industry standard. The aerial platform and rough terrain forklift portion of training is designed to provide students with the basic understanding of performing inspections and operating articulating boom lifts and rough terrain forklifts.
TOTAL PROGRAM HOURS: 280 Hrs.
FULL TUITION: $14,995
GLTDS DOES NOT ACCEPT CASH. ALL PAYMENTS MUST BE MADE BY CREDIT, DEBIT, CHECK, MONEY ORDER, ETC.
Effective February 1, 2022, anyone making payments with a credit or debit card will be charged a 3% card processing fee.
SCHEDULE
Full-time Schedule – 7 Weeks;
Heavy Equipment & Oil Monday – Friday 8:00 AM – 4:30 PM
Start Date
Expected Graduation Date
Holidays

No Classes Scheduled

Contact Admissions for More Information
*Expected Graduation Date reflects the student's graduation date if perfect attendance is maintained